You are invited to join our BAFF FILM SEMINAR on
"IS ASEAN CONTENT READY TO TAKE ON THE WORLD?"
December 9, 2021, 2-4 pm
Venue: 8th floor, TK Park, CentralWorld
In the past decade, Southeast Asian countries have produced outstanding contents of great variety to attract various global exhibition platforms, from international film festivals, distribution networks, as well as streaming services. But the Covid-19 pandemic has dealt a big blow to the content industry across the region. Will ASEAN content bounce back and regain its worldwide appeal? What are the main factors that promote and sustain the variety and creativity of ASEAN content? And how can regional content fit into the changing landscape of world cinema?
International experts will take part in this seminar in which they will explore and analyze the content-making situation in Southeast Asia. The seminar will be a hybrid event, with on-site as well as online participants.
Click here to register: https://www.baff.go.th/register-is-asean-content-ready-to-take-on-the-world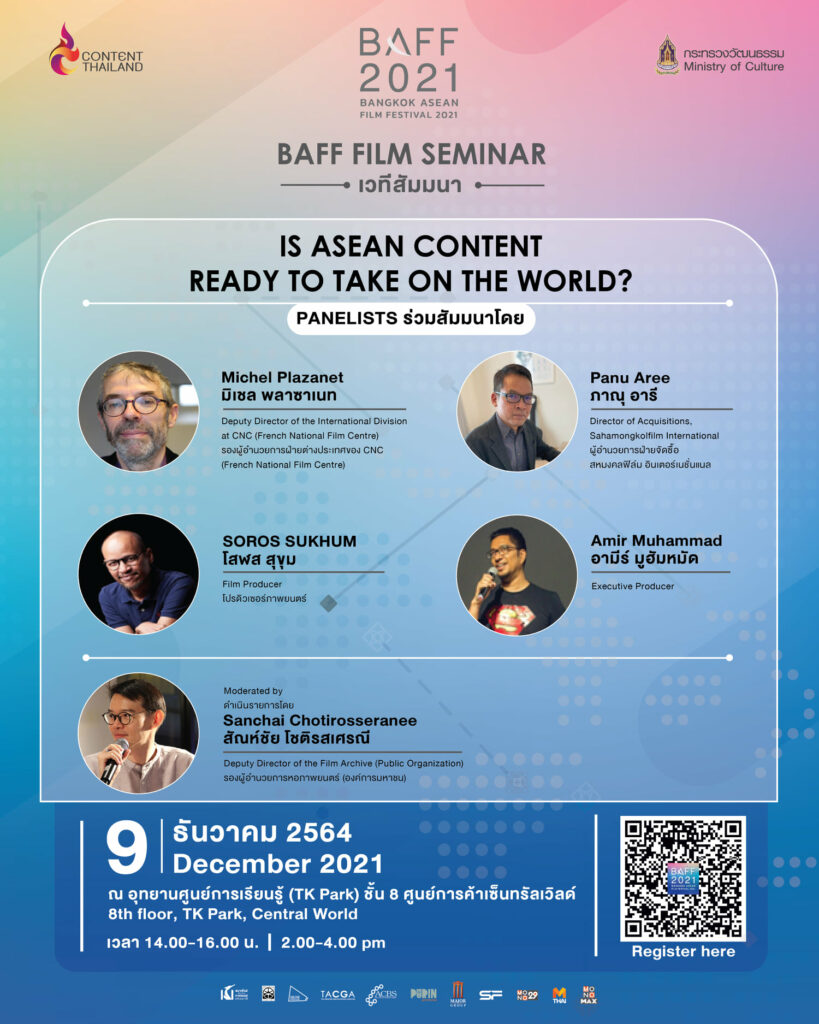 ==== Panelists ====
Michel Plazanet
Deputy Director of International Division at CNC
Michel Plazanet graduated in business and administrative affairs. After having worked long in the telecommunication sector, he joined the CNC (French National Film Centre) as head of the regional action department. In 2012, he was promoted deputy director of International and European affairs and has held this position ever since.
SOROS SUKHUM
Film Producer
SOROS SUKHUM graduated from film school in Bangkok. Now with a decade of experience, he is regarded as the most important independent producer working in Thailand. He currently supports a generation of Thai filmmakers including Aditya Assarat, Sivaroj Kongsakul, Anocha Suwichakornpong and Prabda Yoon. His resume includes numerous prizewinners including Rotterdam Tiger and Busan New Current winners WONDERFUL TOWN (2007), MUNDANE HISTORY (2009), ETERNITY (2010) and 36 (2012). He also recently co-produced the award-winning films DIAMOND ISLAND (2016) from Cambodia by Davy
Chou, Singapore's POP AYE (2017) by Kirsten Tan as well as MEMORIA a Columbia-Thai co-production film by Apichatpong Weerasetakul that won a Jury prize at Festival de Cannes 2021.
Soros is a first Thai producer who received a national Silapathorn Artist Award for Film and Video from Ministry Culture of Thailand. In 2020 he received a FIAPF Award for Outstanding Achievement in Film in the Asia Pacific Region.
Panu Aree
Director of Acquisitions, Sahamongkolfilm International
Panu Aree graduated from the Film and Photography Department of Thammasat University in 1995. He began his career as a sound recordist for Thai film production in 1995, and directed a number of documentary films which have been screened in many film festivals including Yamagata International Documentary Film Festival, Vancouver International Film Festival and Hawaii International Film Festival. He is also a lecturer on film business at many universities including Burapa University, Thammasat University and Kasem Pundit University. Panu is currently working at Sahamongkolfilm International Co., ltd as the Director of Acquisitions.
Amir Muhammad
Executive Producer
Amir Muhammad is a Malaysian who produces books (with his company Buku Fixi) since 2011 and movies (with his company Kuman Pictures) since 2018. Kuman Pictures produces low-budget thrillers and horror films such as "ROH"(2019). The movie company is currently holding a worldwide screenwriting competition, the winner of which will become its seventh movie.
==== Moderator ====
Sanchai Chotirosseranee
Deputy Director of the Film Archive (Public Organization)
Sanchai Chotirosseranee is the deputy director of the Film Archive (Public Organization) in Thailand. He is a programmer for Thai Short Film and Video Festival and Silent Film Festival in Thailand. He is also the executive committee for the Southeast Asia Fiction Film Lab (SEAFIC) and the secretary-general for the SouthEast Asia-Pacific AudioVisual Archive Association (SEAPAVAA).