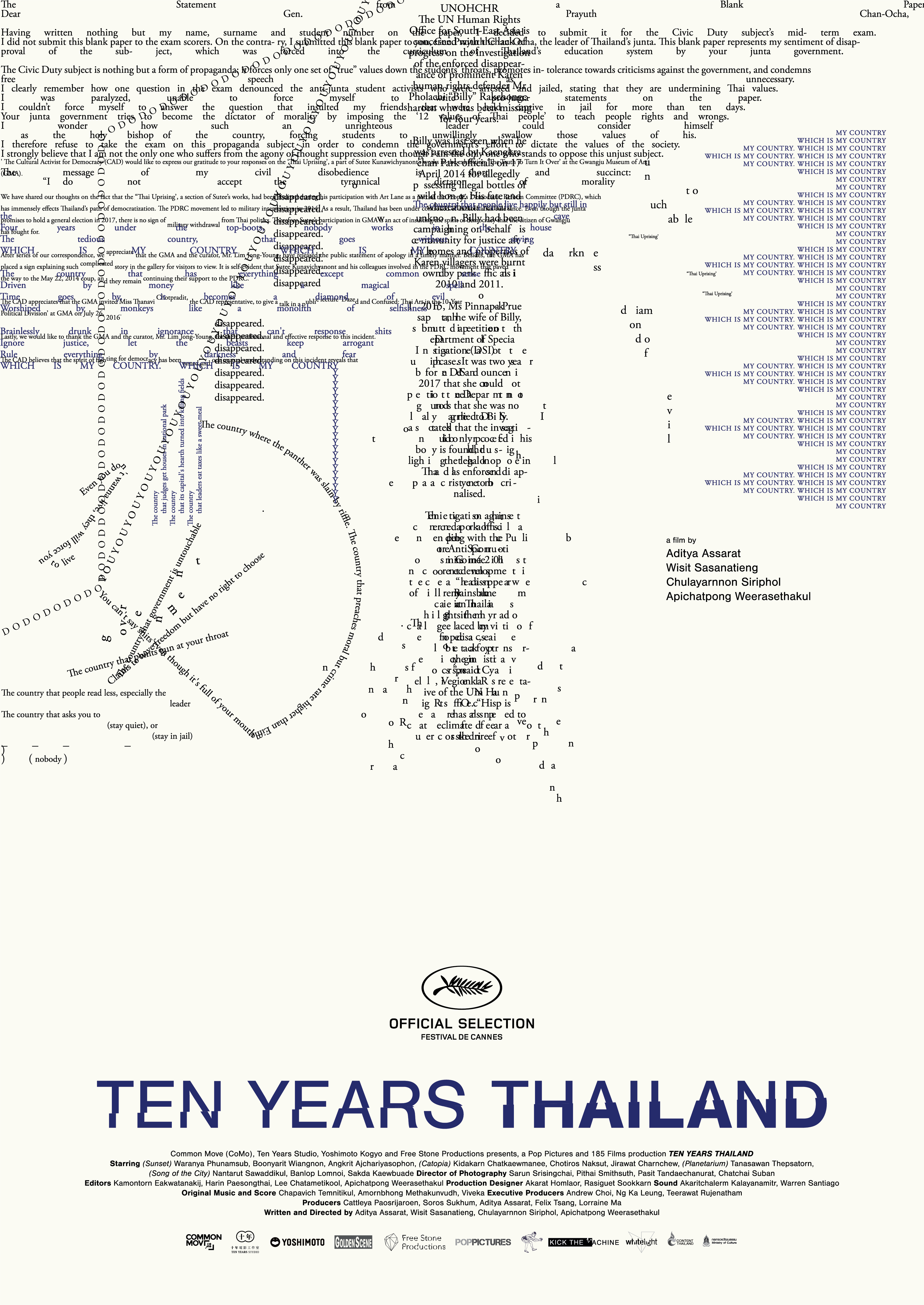 Film Year:
2018
Release Date:
13 December 2018
Running Time:
93 Mins
Genre:
Film Rating:
13+
Director(s):
Cast:
Production Company / Distributor (Thailand):
Ten Years Studio Limited (Hong Kong)
,
Pop Pictures Co., Ltd.
,
185 Films Co., Ltd.
,
Common Move
,
Yoshimoto Kogyo Co., Ltd. (Japan)
,
Free Stone Productions Co., Ltd.
,
Executive Producer(s):
Producer(s):
Screenwriter(s):
Cinematographer(s):
Editor(s):
Composer(s):
Awards / International Film Festivals:
Nominee
Jury Award – Best Narrative / CAAMFest 2019
Special Screening / Cannes Film Festival  2018
Window of Asian Cinema / Busan International Film Festival 2018
World Focus / Tokyo International Film Festival 2018
Special Screenings / Five Flavours Asian Film Festival 2018
Hong Kong Asian Film Festival 2018
Taiwan Golden Horse International Film Festival 2018
Singapore International Film Festival 2018
Synopsis:
An omnibus film inviting four directors to imagine their country a decade from now.
Sunset: Several soldiers follow up on a routine complaint at an art gallery. They are there to check up on exhibitions and make sure there are no images that may cause conflict and misunderstanding.
Planetarium: The New Youth are trained by the state to find and bring in citizens who don't think and act in the correct way.
Catopia: A young man finds that his everyday life seems normal except for one thing: he is the only human left amid a world of cats. They walk, dress, act, and talk just like humans.
Song of the City: Around the Ratchadanussorn Park in Khon Kaen, under the watchful eye of the Field Marshal Sarit Thanarat statue, several people gather to enjoy the breeze and chit-chat.