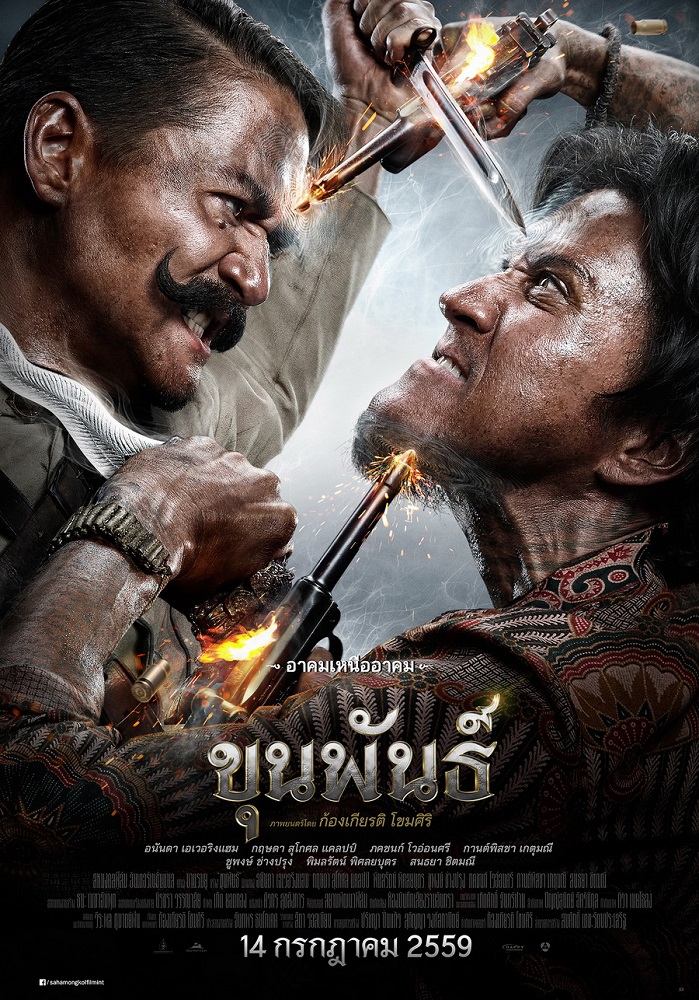 Film Year:
2016
Release Date:
14 July 2016
Running Time:
110 Mins
Genre:
Film Rating:
15+
Director(s):
Cast:
Production Company / Distributor (Thailand):
Executive Producer(s):
Producer(s):
Screenwriter(s):
Cinematographer(s):
Editor(s):
Composer(s):
Synopsis:
At the height of World War Two, the Imperial Japanese Army spreads its might all over Asia. Thailand is going through a historic modernization to enter the new age, but the sweeping change has left a large part of the population poor and struggling. In rural areas, people are oppressed by gangs of thugs and killers, who spread their dark influences all over the country without respect or fear of the law. Some corrupt civil servants side with the bad guys to reap profit and maintain their grip of power.
In the southern province of Chumporn in 1939, Khun Pun is a police detective who defeats a gang of bandits despite having just one bullet in his pistol. Khun Pun is renowned for his sorcery and spells, which give him a supernatural protective power. After defeating the Pa Daeng gang, Khun Pun volunteers to take on the most dangerous mission: to hunt the ferocious Alhawee Yalu, the dark lord of the southernmost provinces who's also skilled in black magic and who spreads terror across the Budo Mountain. Alhawee Yalu is feared for his invulnerability – no bullets can hurt him – while his dagger is the most ruthless weapon.
Khun Pun travels to the remote area in the South and play a cat-and- mouse game with his nemesis.
He is assisted by two villagers from a fishing village: Khaito and his sister Malai. Khun Pun goes undercover and infiltrates the Ivory Club, a den of filthy luxury run by Master Olarn, a high-ranking civil officer. Khun Pun has to take out not just Alhawee Yalu but also his two assassins, Sang and Bu-nga
Khun Pun soon learns that the whole town is a den of criminals, with the villagers taken hostage by bureaucrats who exploit the unrest and the approaching war for their own gains. Khun Pun's hunt for the most fearsome criminal takes place amidst the stench of blood and death.